Huge news for ComicBricks fans! LEGO has
announced
a greatly expanded DC license. The full article follows, but the highlights are:
-
January 2012
launch of the line
-First 13 characters will include
Batman, Superman, Wonder Woman, Joker, Bane, Harley Quinn and Lex Luthor
-Exclusive promo
Batman and Green Lantern figs
will be available in limited supply at ComicCon in San Diego this weekend
-A release of
new Batman sets
will come out in summer 2012 in connection with the movie The Dark Knight Rises (in theaters exactly one year from now)
Thanks to Mariann of
Model Building Secrets
for finding this news.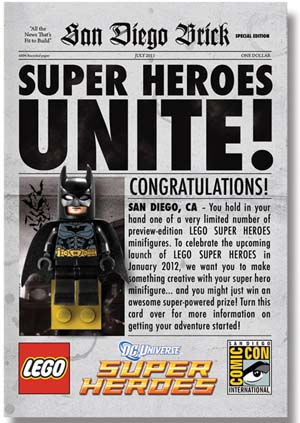 Here's the full article from Variety. I expect we'll learn more this weekend from ComicCon.
Warner Bros. has expanded its relationship with Lego, granting the toymaker access to DC Entertainment's complete library of comicbook characters and stories to launch DC Universe "Super Heroes" as figures and playsets.

The multi-year licensing deal, made through Warner Bros. Consumer Products, will start rolling out the new line in January, starting with 13 characters, including Batman, Superman, Wonder Woman and villains the Joker, Bane, Harley Quinn and Lex Luthor.

The first toys will be shown off at the Lego booth at Comic-Con Intl. in San Diego, where 3,000 exclusive Batman and Green Lantern minifigures will be distributed to launch a promo that runs August-December, enabling fans to create and submit videos, photos or illustrations of the characters to win trips to Legoland and Warner Bros. Studios.

WB and Lego had already been producing toys and videogames around the Batman franchise, and will launch a new set of playthings around next summer's "The Dark Knight Rises" through the Lego Batman collection. The "Lego Batman: The Videogame," published by WB Bros. Interactive Entertainment, has sold more than 12 million units since 2008."This partnership gives builders a chance to recreate the characters, vehicles and worlds of some of the most iconic super heroes, so they can relive the action and even customize it, a proven and winning formula in Lego construction," said Jill Wilfert, VP, licensing and entertainment for the Lego Group.
Just a personal note - I am generally not a fan of licenses, and have
posted this repeatedly
on forums like Classic-Castle. On various LEGO forums, people are always saying 'LEGO should license this or that movie, TV show, or video game.' I've written that the main criteria for licenses is that it should be for something that fans cannot create themselves and that the subject should be something with decades of history and a built in fan base. So, for instance, Star Wars has been a very successful license, in that it has included many new elements and minifigures, and taps into a huge customer (and collector) base spanning from people like myself who saw A New Hope in theaters as a kid to today's ten year olds watching the Clone Wars cartoons. OTOH, the oft-requested Lord of the Rings license is unneeded, as fans can and have made tons of great MOCs with existing elements. Given that the books existed decades before the Peter Jackson movies, there is no 'official' look for the characters or locations that you absolutely need LEGO to create special elements for (heck, in my imagination, the characters all look like the Bakshi cartoon). The one exception that I have consistently called for is an expanded comic book hero license, in either the DC or Marvel universe (building on the previous more limited Batman and Spider-Man themes). Yes, there are great customizers out there, and I've tried to feature them often on this blog, but most of us aren't that great at customizing. So it's huge news that we'll be able to get official figs. I'll be interested to see what vehicles and locations they come up with. In the past people (including LEGO reps?) have said that the big advantage of Batman, from the sake of designing sets, is that he is so vehicle-driven - so there are obvious set ideas for a Batmobile, Batwing etc. Of course Wonder Woman has her jet. What does Superman have? I guess we have iconic locations for him - the Daily Planet, the Fortress of Solitude - or maybe what they'll do is have a set with some big attack vehicle driven by Lex Luthor and Supes will be fighting it. Of course they have tons of material to draw on - from almost 75 years of comics, to live action and cartoon TV shows, to blockbuster summer movies dating back to Christopher Reeve and Michael Keaton (though it does seem we see more Marvel movies than DC movies).
Anyway, I'm all excited about this. As some of you know, I'm mostly a Castle guy, but I'm sure I'll be buying all of these sets. Yay LEGO!